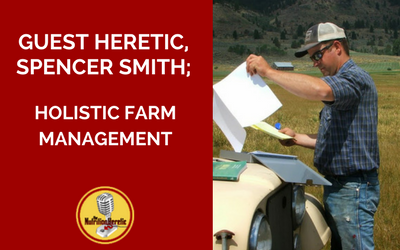 After his wife, Abbey, returned from working on a  holistically managed farm in South Africa in 2005, she and her husband, Spencer sat down to create their own Holistic Context Statement. In this week's episode of the Nutrition Heretic Podcast, we talk with Spencer Smith, learn what a Holistic Context is and how creating one for yourself is important for anyone who wants to engage more meaningfully with their farming, family and their food choices.
Spencer Smith is the leader of the Jefferson Center for Holistic Management, part of the Savory Network.  To keep up to date with Spencer and Abbey, you can follow them on Facebook, Twitter, Intagram, Pinterest, and YouTube.
Thanks for listening! Please share this episode to help spread the word. You can also subscribe to get updates about new episodes and get a copy of The Nutrition Heretic's S#IT List: 7 Health Food To Avoid Like The Plague in your inbox by clicking here.