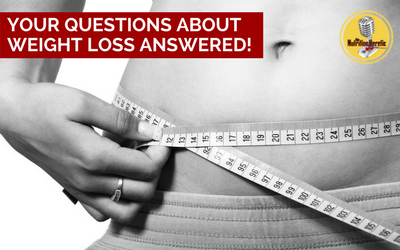 This week's Q & A is all about weight and weight loss.  Does body type have anything to do with it?  Can the order in which you eat your food during your meals make a difference to your hunger satiation?  Are enriched products good for you; what do they really contain?  What does trauma have to do with weight loss or gain?  And there's plenty of talk about parasites!
Tune in to hear this week's questions about weight loss:
Is it about calories in vs. calories out?
What is most important: quality ingredients or quality diet? Meaning avoiding bad stuff but maybe not eating organic.
What do you do with an eleven-year-old who is always hungry?
I can't seem to shed weight even though I think I eat well.
The role of physical activity in weight loss is also touched on, and will be explored further in a future Q&A (you can also listen to this episode that also talks about it)
What is the Weekly Q&A?
Each week between podcast seasons Adrienne hosts a FB Live event to answer your questions.
Can't make it live?  Sign up for email alerts and get reminders direct to your inbox when episodes are posted on our website and YouTube channel.  And follow us on iTunes and Stitcher to listen on-the-go.  While you're there, be sure to leave a rating and review!
How To Have Your Questions Answered
Email us at stjllc.cs@gmail.com with your questions or suggestions for upcoming Q&A events.  Be sure to use Weekly Q&A in the subject line.
Thanks for listening! Please share this episode to help spread the word. You can also subscribe to get updates about new episodes and get a copy of The Nutrition Heretic's S#IT List: 7 Health Food To Avoid Like The Plague in your inbox by clicking here.
It's a New Year and it's time to try something new and branch out!  The Nutrition Heretic podcast team is working hard behind the scenes to bring you even more awesome guests in the year ahead, as well as a few surprises!