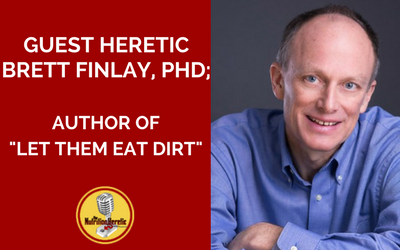 Any moron knows that processed foods don't benefit our health, but today we go beyond the empty calories and lack of expiration dates to look at yet another way they actually harm you — by upsetting the balance of good and bad bacteria in the gut. From hand sanitizers to dirty births, we dive deep into the topic of microbiota with Brett Finlay, the author of Let Them Eat Dirt.
Highlights from today's episode:
6:10 ~ Asthma, eczema, allergies and antibiotics — How degraded food quality leads to more disease.
11:55 ~ Explain the importance of a dirty birth.
14:57 ~ One easy way to lower your chance of Alzheimer's by 22-65%!
27:38 ~ How does the lack of dirt influence obesity?
32:20 ~ Eating sh*t to improve your health; Can we repoopulate our microbiota?
48:35 ~ How parents can distinguish a healthy level of dirty from just nasty.
| | |
| --- | --- |
| | Read more about the fascinating research of repoopulation, balancing microbiota in your child's body, and how to give your kids the best chance at a disease-free life: |
Thanks for listening! Please share this episode to help spread the word. You can also subscribe to get updates about new episodes and get a copy of The Nutrition Heretic's S#IT List: 7 Health Food To Avoid Like The Plague in your inbox by clicking here.