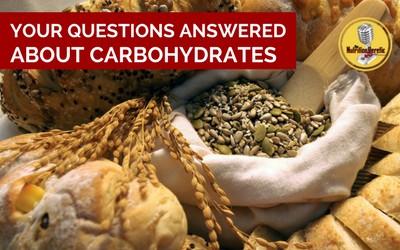 Will you be seeing 50 Shades of Whey be making an appearance?  Not very likely, but Adrienne shares what's been going on with her book, 50 Ways To Eat Cock: Healthy Chicken Recipes With Balls!  Modern Wheat is different than it was 100 years ago, and more people are reacting to it; but what are the consequences of cutting out gluten when you don't need to?  Do people replace gluten with alternative carbohydrates?   Why are some people so afraid of carbs? What happens when you eat too much fibre? As an added bonus, find out what Adrienne adds to her homemade sauerkrout to make it the best ever! These questions and more are answered on this week's Q&A with The Nutrition Heretic.
Your Questions Answered about Carbohydrates:
How is modern wheat different than that of our ancestors?
Why do we need carbohydrates?
Do we needs as many carbs as we eat in the US?
Are carbs a good source of energy?
Links for this episode:
What is the Weekly Q&A?
Each week between podcast seasons Adrienne hosts a FB Live event to answer your questions.
Can't make it live? Sign up for email alerts and get reminders direct to your inbox when episodes are posted on our website and YouTube channel.  And follow us on iTunes and Stitcher to listen on-the-go.  While you're there, be sure to leave a rating and review!
How To Have Your Questions Answered
Email us at stjllc.cs@gmail.com with your questions or suggestions for upcoming Q&A events.  Be sure to use Weekly Q&A in the subject line.
Thanks for listening! Please share this episode to help spread the word. You can also subscribe to get updates about new episodes and get a copy of The Nutrition Heretic's S#IT List: 7 Health Food To Avoid Like The Plague in your inbox by clicking here.