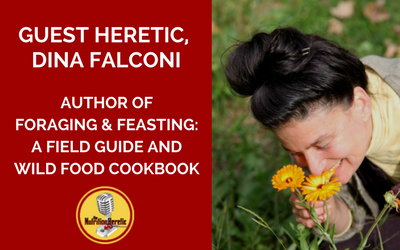 I've said it before — Americans have a horrible relationship with food. But our Guest Heretic Dina Falconi doesn't. Join us for a sensuous walk where we'll forage for delicious wild edibles, liberate ourselves from a broken food system, and nourish our souls using her gorgeous book Foraging & Feasting: a Field Guide and Wild Food Cookbook.
Dina Falconi invites you to identify wild edible plants with instructive, botanical illustrations; harvest & cook them into delicious food with her recipes. To see what's on  Dina's menu, follow her through her website,Botanical Art Press, Facebook, Instagram, and YouTube.
Highlights from today's episode:
05:04 ~ Dina's first experience with foraging
10:00 ~ Surprising foods that may be growing near you
12:25 ~ Two herbs that are surprisingly available and safe to pick
17:51 ~ How NOT to poison yourself
26:30 ~ Foraging: being cheap vs. food sovereignty
28:35 ~ The importance of regenerative harvesting
34:25 ~ What to know about foraging on public lands
50: 47 ~ How to use the recipes and develop your own
56:47 ~ Tips on getting started with foraging
Other Links In This Episode:
Thanks for listening! Please share this episode to help spread the word. You can also subscribe to get updates about new episodes and get a copy of The Nutrition Heretic's S#IT List: 7 Health Food To Avoid Like The Plague in your inbox by clicking here.